R.M.R.D
Salient features of R.M.R.D Automation System

Automixing & drawing of sample from weighbowl.

Auto Discharge of sample to sample bottle.

Auto Bottle releaser.

Auto drain of milk from weigh bowl to dump tank.

Fully automatic operations.
A computer based On - Line Milk Reception System with automatic draining, sampling and testing, to be used by large Dairies and Chilling Centers where there is voluminous can reception of milk.
The system automatically processes milk reception and test data to provide instant milk receipts, shift reports, society wise bills etc. as per user requirements using our specially designed customized software. This system can also provide outputs in regional languages if so required.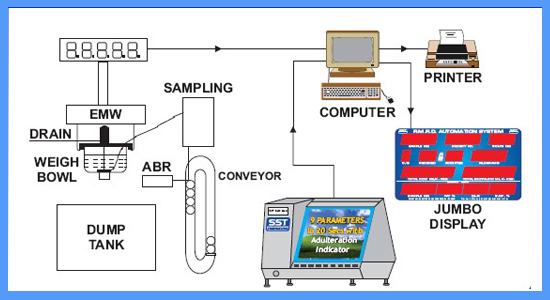 Advantages - Use of raw milk receiving Dock Automation System

Enhanced accuracy and efficiency of milk collection, testing and data base management.

Complete transparency of the collection and testing process which results in enhanced faith of the producers in the Union and also improved milk quality.

Savings in manpower.
These aspects are elaborated upon here below:
Data input software on the dockside computer has validation facility to show the society name when code is entered,thus eliminating the possibility of crediting the milk to the wrong society.

Weight data is recorded to higher accuracy and transferred instantly and accurately DIRECTLY from the Electronic Weighing Scale to the Computer, thus obviating the possibilities of error / manipulation.

Sampling system is designed to ensure proper mixing before sample is drawn. Since the sampling is Automatic, the person who draws the sample on the Dock is not required.

The Conveyor automatically transports the samples to the laboratory, hence the person carrying the sample trays to the lab, is also not required

The samples are transported continuously and smoothly without fear of spillage and work in the laboratory is continuous rather than batch wise per sample trays.

Sample bottles carry no identification and hence there can be no bias while testing the sample since its identity is unknown to the tester

The samples are received at the lab in the sequence of collection thus obviating the chance of mix-up etc and minimizing human error.

The samples are tested automatically, thus eliminating operator errors/adjustments.

Only single person is required to test both Fat + CLR

Since Auto C.L.R. / S.N.F. Indicator has a wide sample temperature range, a person generally used in the laboratory, to bring the samples to the correct temperature is no longer required.

The readings are taken by the instruments are directly stored electronically into memory and hence no effort of manually writing and error possibility etc enabling faster throughput with no error & saving in manpower.

Once the collection has been completed, the system can generate MPCS receipts almost immediately with full data of quality and quantity printed thereon. No additional effort of passing around truck sheets, making entries etc.

Detailed analysis of the collection in terms of quality, quantity & various other MIS Information can be had almost immediately after collection is over. This would otherwise require several people & several hours to collate the data & then work out the analysis and check the results.

Milk Reception Data can be directly linked to your existing billing software, thus eleminating the need for several data entry operators to spend several hours keying the collection data,then having reports generated and verified, and thereafter used for billing purpose. There is substantial saving in stationery also.

It is the experience of our customers that, as the producers quickly realise that the system is fully automatic, rigid & impartial in terms of testing and gradation/rejection of milk, the societies supplying milk of marginal quality automatically start improving the quality of milk supplied to ensure that rejections are minimised & they get proper returns. This in turn results in improved bulk quality of the dairy, which greatly benefits the dairy, and results in a quick return on investment for the system.
List of standard reports (Milk Collection Module)

PRODUCERS MILK RECEIPT (SOCIETY)

MILK COLLECTION LISTING. (**)

ROUTE REPORT / TRUCK SHEET (C/B) (**)

ROUTE SUMMARY. (**)

NON STANDARD MILK COLLECTION REPORT. (**)

CHANGE REPORT

FAT/SNF DISTRIBUTION.

SOCIETYWISE PERIODIC MILK RECEPTION. (**)

TOTAL MILK COLLECTION SUMMARY. (**)
Note:
REPORTS MARKED (**) ARE AVAILABLE AS SHIFTWISE, DAILY, PERIODIC.

OTHER REPORTS ARE SHIFTWISE ONLY.

ADDITIONAL CUSTOMISED REPORTS CAN BE PROVIDED AT ADDITIONAL COST.