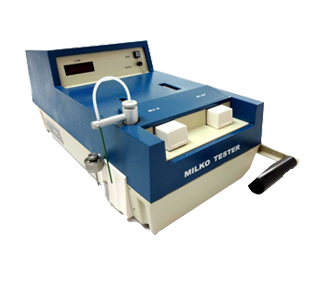 Developed by SSTE, based on many years of experience and study of Milko Tester operations in field conditions, this machine features:
Smooth automatic operation (reduces wear & tear, saving maintenance cost).
Higher accuracy (since no variations due to manual operating).
Higher repeat accuracy ---due to precise electronic control of operations.
Enhanced reliability due to advanced circuitry.
12V/8amp DC Battery Supply.
Computer compatible RS 232 port.
Many advanced features.
Suitable for Laboratory & Field use.
Technical Specification

Power supply
AC: 200-245 V/ 1 PH / 50 Hz
DC: +12V/8 AMP
A fully charged 120 Ampere/hour battery will last for at least 6 hours operation.
Measurement range
0-14% Fat
Testing speed
150-180 Samples / hour
Accuracy
0 - 5.0% Fat : 0.05%
5 - 8.0% Fat : 0.09%
8 - 14% Fat : 0.20%
Consistency
More than 95%
Milk sample volume
0.5ml / Test
Diluent volume
6.5 ml / Test
Calibration
Two independent, identical Calibration channels each adjustable in the range 0-14%
Ambient operating temperature range
5°C TO 45° C
Dimension (H x W x D) approximate
23cm (H) X 31cm (W) X 53cm (D)
Weight approximate
19 Kg